Hunting with a Utility Terrain Vehicle (UTV) is becoming more and more popular for hunters. UTVs provide an efficient and safe way to explore the terrain when hunting, enabling hunters to cover more ground in less time. UTVs are also versatile, allowing hunters to access remote areas that may be inaccessible by other vehicles.
With a UTV, hunters can traverse rugged terrain with ease while carrying all their gear and supplies with them. In addition, they can use their UTV as a means of transporting the game after the hunt. UTVs offer a unique way for hunters to enjoy the outdoors while getting the most out of their hunting experience.
Reviewing the Best UTV for Hunting
We have compiled a list of UTVs that are perfect for hunting and will help you make the most of your time in the field. From power output to storage capacity, these UTVs provide everything you need to get your hunt done efficiently and comfortably. So read on to discover which UTV is best suited for your needs!
1. Can-Am Defender Pro DPS HD10
The Can-Am Defender Pro DPS HD10 is an off-road vehicle designed for extreme performance and durability. It features a powerful Rotax engine, heavy-duty suspension, and an advanced traction control system that makes it perfect for tackling any terrain.
The UTV is excellent for hunting as it comes integrated with a slew of other features such as an integrated winch, LED lighting system, and a multifunctional digital display that make it the ultimate off-road vehicle. With its robust construction and reliable performance, the Can-Am Defender Pro DPS HD10 is the perfect choice for any off-roading enthusiast looking to explore the great outdoors.
Pros
Has a powerful engine that provides great performance in rough terrain
Has a comfortable and roomy cabin with a spacious cargo bed that is perfect for hunting gear
Durable construction and made to last
Powerful suspension system providing a smooth ride & good handling
A variety of accessories and attachments are available, making it a versatile vehicle for hunting.
Cons
Relatively expensive option when compared to other UTVs on the market.
Can be quite heavy which makes it difficult to maneuver in tight spaces.
Doesn't come with a winch as standard, which may be an issue for some hunters.
---
2. Honda Pioneer 1000
The Honda Pioneer 1000 is a powerful and reliable Side-by-Side utility vehicle that can handle any terrain. It has a 1000cc engine, independent suspension, and four-wheel drive capability for excellent performance.
The Pioneer 1000 also features a comfortable cab with adjustable seating, a tilted steering wheel, and plenty of storage space. With its impressive power and durability, the Honda Pioneer 1000 is the perfect choice for outdoor adventure seekers who need to get the job done quickly and efficiently.
Pros
Powerful and reliable 999cc engine
High payload and towing capacity
Comfortable and spacious seating for up to three passengers
Good off-road capabilities
Durable and well-built construction
Cons
High price point compared to other UTV models
Fuel consumption can be high when using the vehicle for heavy-duty tasks.
Limited storage space.
---
3. Yamaha Wolverine X2 R-Spec SE
The Yamaha Wolverine X2 R-Spec SE is an ideal UTV for hunting. It features a powerful 847cc twin-cylinder engine, On-Command four-wheel drive system, and a comfortable two-person cockpit.
The UTV also has a range of other features designed to make hunting trips more enjoyable, such as an integrated storage system and a fully adjustable suspension system. With the Wolverine X2 R-Spec SE, hunters can get to their destination quickly and safely while enjoying all the comforts of home.
Pros
Equipped with an 847cc twin-cylinder engine that delivers reliable and strong performance.
Integrated with a high-strength steel frame that is clubbed with a durable suspension system
Offers comfortable and adjustable seating for the driver and passenger.
Large cargo space at the rear along with convenient storage space in the front.
Cons
Premium vehicles can be expensive compared to other models in the market.
Relatively heavy, which may make it less maneuverable in tight spaces.
847cc engine may consume more fuel than smaller displacement engines.
---
4. Kawasaki Teryx KRX 1000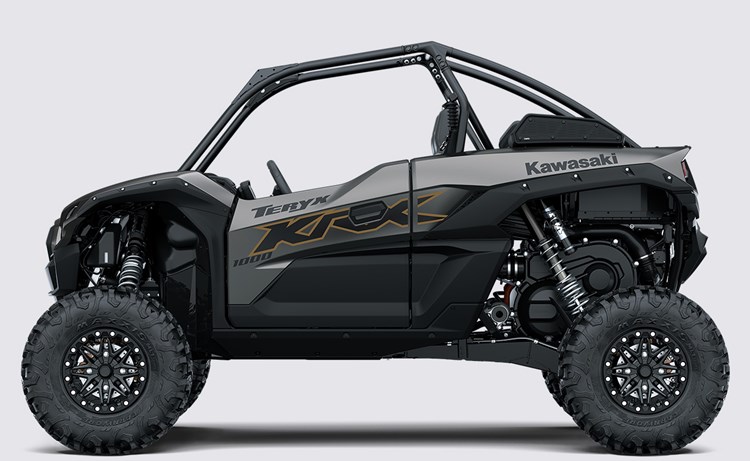 The Kawasaki Teryx KRX 1000 is a powerful UTV designed for hunting and other outdoor activities. It features a strong, rugged frame and powerful engine that makes it ideal for off-road adventures. The superior suspension system facilitates easier navigation even on the roughest terrains.
The UTV also comes equipped with advanced safety features, making it the perfect choice for hunters who want to stay safe while exploring the great outdoors.
Pros
Equipped with a 999cc parallel-twin engine delivering very strong acceleration and high speed.
Integrated with a reinforced chassis that is clubbed with suspension components designed to perform in the toughest conditions
It provides a roomy cabin with features of large legroom and a smooth ride
Equipped with high-quality components such as Fox shocks, Maxxis tires, and a high-strength roof.
Cons
A high-end side-by-side vehicle that comes at a premium price.
Comparatively heavy for a side-by-side vehicle
Limited cargo capacity, making it less suitable for hauling heavy loads.
Has a large engine that consumes more fuel than smaller side-by-side vehicles.
---
5. John Deere Gator XUV835M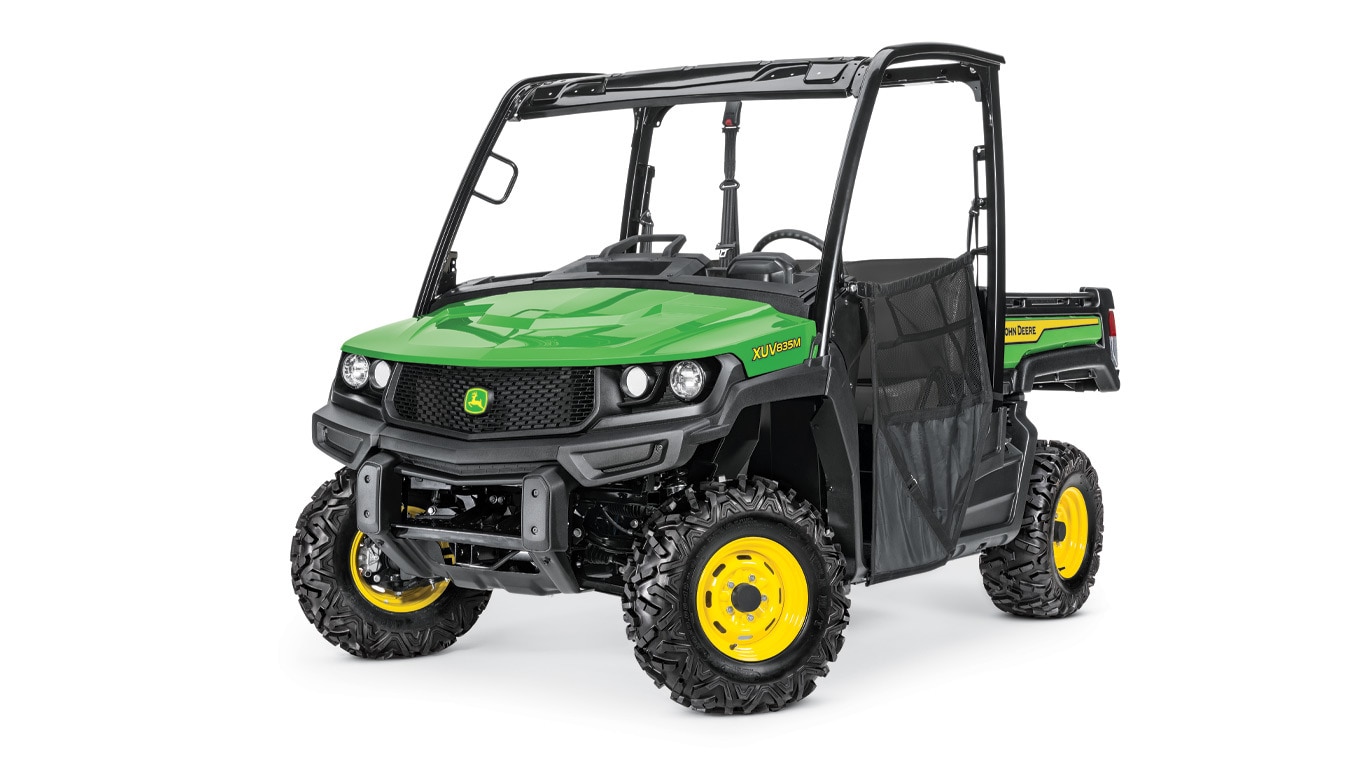 The John Deere Gator XUV835M is the perfect UTV for hunting. This powerful and reliable vehicle is designed to traverse any terrain, allowing you to get to your hunting grounds with ease.
With its high-powered engine, adjustable suspension, and advanced safety features, the Gator XUV835M ensures a safe and comfortable ride no matter where your hunt takes you. Whether you're an experienced hunter or just starting, the Gator XUV835M provides all the features you need for a successful hunt.
Pros
High-performance 812cc engine
Durable & rugged design
Comfortable seating for three people
On-demand 4-wheel drive system
Large payload and towing capacity
Cons
Heavyweight
Limited ground clearance
Requires premium gasoline
---
Buying Guide
The following guide intends to help you understand what important features you should be considering before buying a UTV for hunting purposes. We will also highlight some important safety tips to keep in mind when using a UTV for hunting.
1. Engines
A powerful engine will ensure that you have enough power to get through rough terrain and carry heavy loads of equipment. It is also important to check if the UTV has enough power output and torque so that it can handle any terrain while hunting.
2. Suspension System
It is also important to look at the suspension system of your UTV as this will determine how comfortable and stable it is on uneven ground. The suspension should be able to absorb shocks from uneven terrain and provide a comfortable ride.
3. Storage Capacity
Additionally, you should check for storage capacity so that you can store all necessary items during a hunt without having to worry about running out of space.
4. Ground Clearance
The ground clearance of a UTV should be high enough so that it can easily cross obstacles on the way. Make sure that your chosen UTV has the good off-road capability so that it can handle any terrain while hunting.
Also Read: Best UTV for Plowing Snow
5. Seating Options
Finally, don't forget to check out ergonomic seating options as they can make a big difference in comfort levels while driving over long distances or rough terrain.
FAQs
Q: Are UTVs good for hunting?
Yes, UTVs are a popular choice for hunting due to their versatility, ability to navigate rough terrain, and ability to carry gear and equipment.
Q: What features should I look for in a UTV for hunting?
When looking for a UTV for hunting, you should consider the vehicle's power and performance, its ability to handle rough terrain, its payload, and towing capacity, and its storage and accessory options.
Q: Are UTVs safe for hunting?
UTVs can be safe for hunting if they are used responsibly and follow the manufacturer's guidelines and any applicable laws or regulations. It is important to always wear seat belts, follow posted speed limits, and avoid dangerous or reckless driving.
Q: What is the price range for UTVs?
The price of a UTV can vary greatly depending on the model, features, and brand. Basic models can start at around $10,000, while more advanced models can cost $20,000 or more.
Concluding Remarks
UTVs are excellent vehicles for hunting that offer many advantages over traditional methods. They provide more comfort, speed, and safety than other forms of hunting, allowing hunters to go farther and faster while still enjoying the sport.
When comparing the options above, your choice could vary depending on the features you are looking for. If you are looking for a premium vehicle, John Deere Gator XUV835M is a good option. Similarly, if you are looking for a very tough performer, you can buy Can-Am Defender Pro DPS HD10.